In this world, everyone has different from there skin tone and they look beautiful in their way. Therefore their makeup and choosing makeup products according to their skin are different. But applying makeup on dark skin sometimes be tricky because so many makeup companies prefer lighter skin tones. But if you applying makeup with the right technique the brown or dusky skin looks amazing alluring! What's more, it always manages to turn heads – the right way. If you have a dark skin tone and looking at how to apply perfect makeup then you are the right place. Today I will share some important dark skin make up tips.
1. Moisturize
Those with dark skin, especially with dryness problems, tend to look ashy if the skin is not moisturized properly. After your daily shower, make sure you apply a good moisturizer to keep your face and body well-hydrated.
2. Primer
Before applying a foundation or a powder you need to apply a primer to your skin to make sure your foundation and/or powder goes on smoothly.
Foundation should be chosen according to your skin color. There are special foundations that are designed for this particular skin color. One and the foremost advice to you never opt for lighter colors of foundation. You will look like wearing a mask on your face, which is so unnatural. Blend your foundation properly into your skin. You may even use several shades at a time if there is any pigmentation on your face.
4. Eye Makeup For Dark Skin
Those who have dark skin color can use more dramatic colors on their eyes. Some good options are gold, dark browns, and bronzes. Use a lighter, shimmery color over the entire eyelid, and after that use a darker shade to emphasize the crease of the eye. If you want to add a more dramatic look, then use eyeliner of gray or brown colors. Finish your eye makeup with black mascara.
5. Bronzer For Dark Skin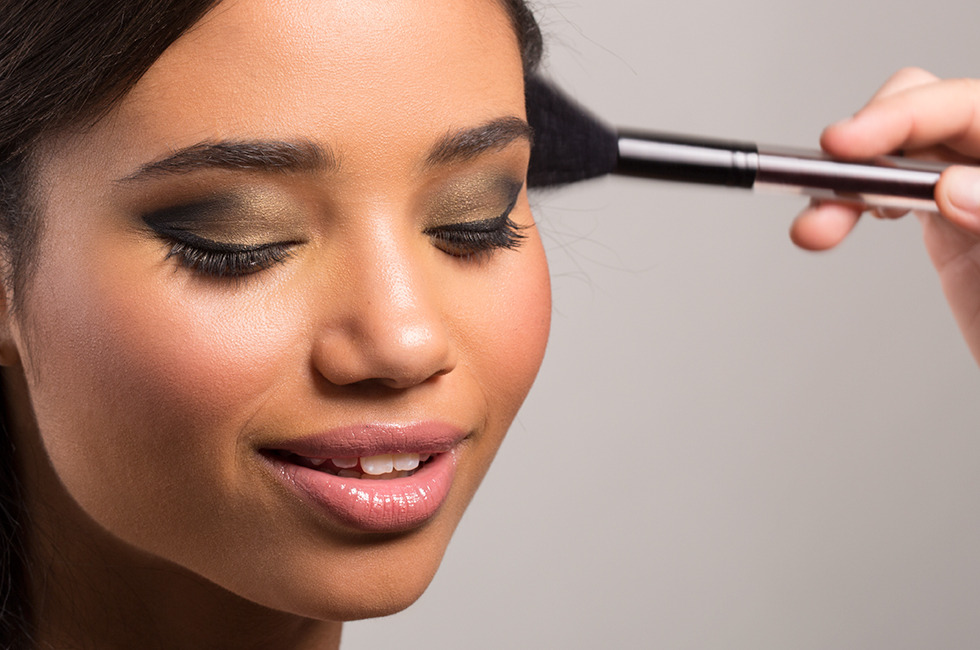 Literally a staple diet for all beauty lovers, a bronzer can make your skin look fresh, glowy and sun-kissed. To create a neat look, apply the bronzer with a sculpting brush on in a C formation. That means, start it at the temples and flick lightly along the sides of the face, forehead, nose, and chin for a more refined look.
6. Blush For Dark Skin
Apply a blush that matches your tone. You can go for a gold one, that really matches you most of all. Red blush is also preferable for you. Apply it on top the foundation with a medium-sized brush on the apples of your cheeks.
7. Lipstick For Dark Skin
Choosing a lipstick color for dark skin is a big task. Always go with coffee, soft pink, berry, gold, beige and chocolate. And stay away from frosty finish or too glossy shades of lipstick.
Follow these simple steps and enhance your beauty. If you like this post share on twitter, Facebook and Pinterest. Comment Below Your Opinion.