Hair clips – small, tiny, ordinary daily use things for women but have you ever imagined how important these little hair friends can be for you? Whether going to a friend's party or your office it is hard to imagine holding your locks in place without a hair clip. That is why in this post we are going to tell you about different types of hair clips and their uses.
Evolution of Hair Clips
What about hair Clips so important? They are just some types of regular hair accessories right?
Well, maybe not. In fact, in the Victorian era hairpins were used as poison soaked hidden weapons. And in ancient Chinese culture hairpins were used as a status symbol by both men and women. Moreover, wearing a hairpin by a girl after she turns 15, was an important ritual in Han Chinese Culture that signifies her maturity as a woman. (Source)
Even in Hindu Mythology hair clips have a special place. According to Hindu folklore, a special hair accessory called Chudamani was worn by Goddesses which symbolizes their marriage or love.
As a matter of fact, the history of hairpins is found to have started even before cultures and civilization. Hair clips and hairpins have existed since our cavemen ancestors learned to make tools from bones, stones, and sticks.
Now, back to the future let us take a look at the different types of hair clips that we have today.
13 Different Hair Clips and How to Use Them
Here is the list of different types of hair clips so read and enjoy and maybe you can pull a better hairstyle next time.
1. Classic Bobby Pins
Starting with Bobby pins, the oldest and most commonly used hair clips that don't actually have a clipping mechanism but they are quite useful especially while styling buns and hairstyles that are quite a little complex.

Bobby Pins are quite simple to use. These pins are generally made of metal wire bent in a tight U-shape with one side plan and one side having bumps. These bumps are not just fancy designs but they are very functional in holding your hair in place.
You can find bobby pins in many colors but generally, these pins come in natural shades to blend with your hair.
2. Snap Clips
Snap clips are another useful and commonly-used clips. From primary school to high school and even office these clips can be a girl's best friend that helps in wearing her flicks up. These pins are popular in women of every age.
These clips come in so many shades and styles that you can never get over them. In fact, you can have a whole collection of your own having a match for your every dress.
Using these clips is so easy, it just takes a snap that's why these are rightly named snap clips. These are available in different sizes and are very useful for making hairstyles. Especially if you're trying to pull a hairstyle in a very short time.
3. Claw Clips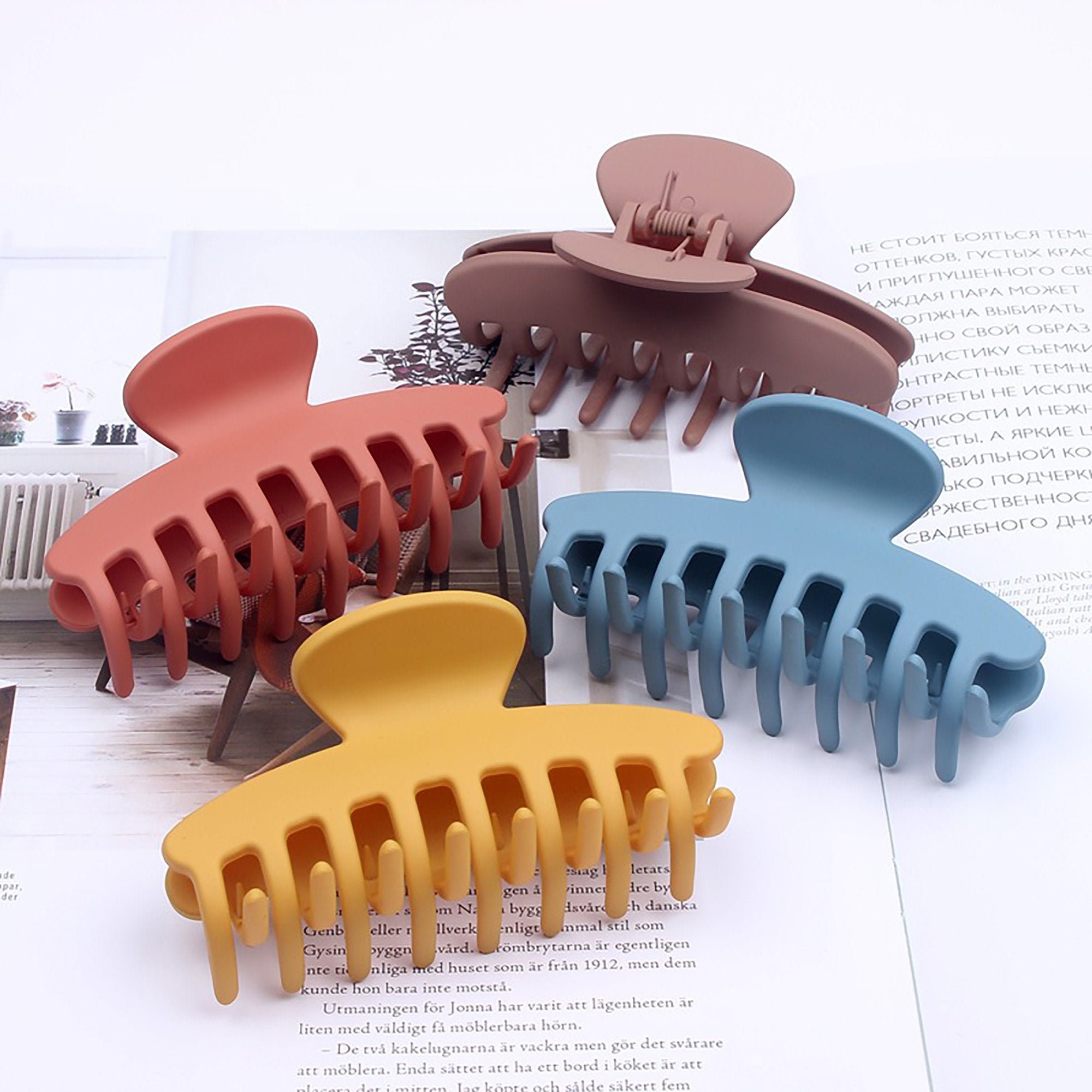 Claw clips are very popular and easy to carry. As the name suggests, a claw clip has two claws or you can say combs attached to each other with a spring.
The spring mechanism helps in pushing open the claws of the clip and then you can grope a chunk of hair and when you leave, the claws will clutch tightly so it doesn't slip out from your hair.
These are ideal for everyday use for binding your hair for hours, especially if you don't want to or have time to do touch-ups to readjust your hairstyle again and again.
4. Old School Hinged Barrets
These types of barrettes were so popular in the age of 80s and early 90s. Today, these are not very common to find but you can still use them to style a little baby girl's hair.
These can be also used to part hair while cutting or styling. Although these barretts look very pretty with all the different colors, the reason that they become unpopular is that they are not very comfortable to use and loosen up resulting in slipping from the hair.
5. Banana Hair Clips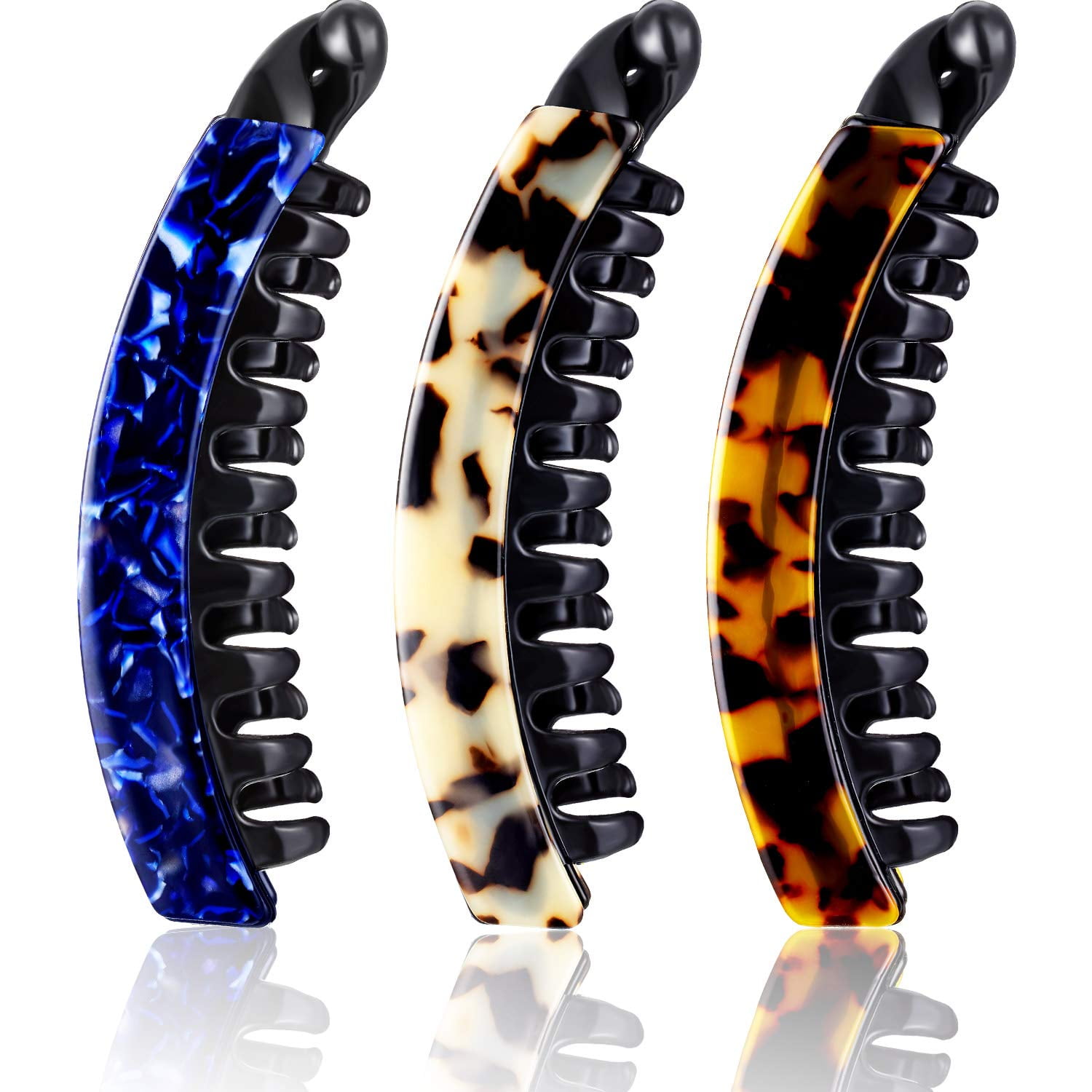 The Banana clip is another very popular type of hair clip that is mostly used by those who have long unmanageable hair. Banana hair clips got their name from their banana-like long shape and size.
These hair clips are huge in size, generally, 6 inches or longer in length and have big teeth on both sides to grab a chunk full of hair. Even after having a very simple mechanism these clips are reliable enough to hold your hair in place for long hours.
6. Alligator Clips
You must have seen alligator clips at the salon when your hairstylist used them to separate your hair while cutting or styling them. These clips can be highly useful at your home too if you love to style your hair by yourself.
You can find them in different colors and designs too if you want to wear your hair up tight in place for the whole day. Generally, these hair clips have one side made of steel and the other side of plastic with small teeth on it.
You can find these clips in different styles and designs which makes them ideal for styling kids' hair.
7. Duckbill Clips
Duckbill clips are another clips that are used by professionals to style or cut hair. These clips have a sharp pointed beak that helps in making fine sections of hair. Hairstylists often use these clips while dying or cutting hair.
They are usually made of metal, you may or may not find them in many colors or designs but if you style your hair at home these pins can make your job easy.
8. Double Prong Curl
This is another styling clip that is very useful for holding hair while cutting, curling, straightening, and coloring.
But these clips can't be used to hold bigger sections of hair and these are not very often used in a fancy way to decorate hair but if you are a professional or have a passion to style your hair at home, you can have it.
9. Wave Setting Clips
These clips are used for setting hairstyles like curls and waves. You might need them to get ready for a special occasion with a special look. These clips can hold up your hair to make beautiful curls while you do your makeup.
10. French Barrette Clips
I remember my mom using these french barrette hair clips to carry her bun. She has a bunch of these barrette clips in different shapes, sizes, and colors.
I did not understand how useful these clips can be until I had my hair grown. Whether making a bun or just hanging your hair up in a ponytail style, you can use these clips.
11. Minimalist Hair Clips
As the name suggests, these clips are simple but still stylish and effective. Unlike those chunky clips, these pins are subtle and elegant in look and can blend easily with your style.
These minimalist clips are small in size and come in so many different designs and shapes that not just kids but women of all ages would love.
12. Hair Bumpit Clips
This clip is not just a clip but it has a bumpit filler attached to a comb-shaped clipped that is clipped under a layer of hair to style a puffed hairstyle.
There was a time when it was quite hard to get a perfect hair puff but these bumpit clips made it so easy to style a bumpit and saves you quite a lot of time.
13. U-Shaped Hair Pins
These are the most underrated hair clips of them all. These U-shaped clips may look the same as Bobby pins but are quite different from those.
Unlike bobby pins these are not tightly packed but are bent in a wide U-shape so that you can insert them in different layers of your hair to hold them together.
End Thought on Different Types of Hair Clips
All these different types of hair clips have different uses and if you are women who love grooming their hair, you must already have most of them in your hairdressing tool kit. If not, then what are you waiting for? Get yourself all these amazing hair clips, you would love them.
[helpie_faq group_id='132'/]
Read this also >> Best 28 Hottest Tribal Braids Hairstyles