The swelling and irritation on the back of the throat are known as a sore throat. But the swelling has been caused by many reasons such as viral infection and including bacterial. Some reasons are allergies like hay fever, pollution, and cigarette smoke. Having a sore throat can be extremely difficult to manage and can also impact your quality of life, making it hard to speak, eat, and even breath. Redness in tonsils, swollen tonsils, the difficulty of swallowing and pain whine talking are some symptoms of sore throat. Here are the some best foods for sore throat treatment.
1. Foods For Sore Throat Potatoes
When you have a sore throat then mashed potatoes are the great breakfast or a meal. They are easy for swallowing and not cause much pain, because they are soft texture. And it also helps for it soothes for sore throat faster.
Make a smoothie using banana and blueberries. Bananas are soft and easy to swallow, and are loaded with fibre whereas blueberries are loaded with tannins. This can help soothe the sore throat.
3. Foods For Sore Throat Sage
Steem some dried sage with the warm water. And you can also mix it with the bowl of chicken soup. Sage can fight inflammation and alleviate physical discomfort of all sorts.
4. Ice Cream
Cold foods provide pain relief. If you think dairy products making your coughing worse. Rest assured in the findings published in the Journal of the American College of Nutrition: Unless you're allergic to it, dairy doesn't give you more mucous or worse hacking.
5. Foods For Sore Throat Hot Chocolate
Dark chocolate has antioxidants which can help reduce the inflammation in the throat. Make sure you use dark chocolate in this recipe. Pour milk into a blender. And blend vanilla extract, cocoa powder, and banana on low for a few seconds. Then blend it with high speed until it mixed thoroughly.
6. Chicken Soup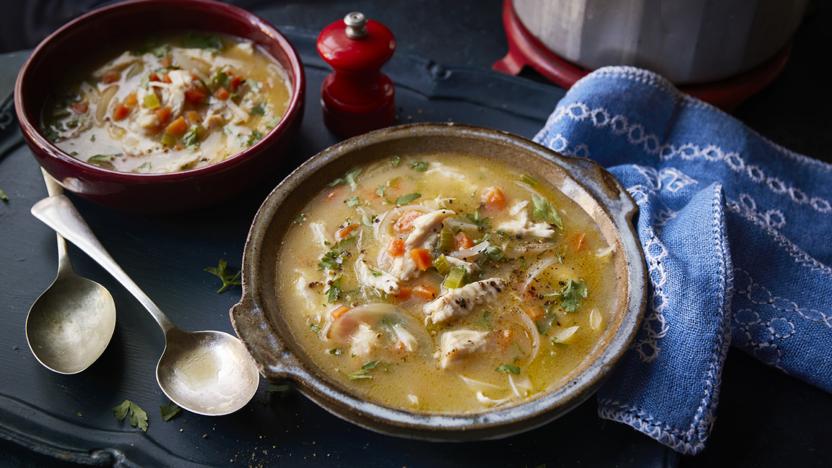 Like any type of soup, you'll be getting lots of vegetables and nutrients which are easier for your body to digest. In addition, hot liquids ease the pain and help the swelling in your throat to go away.
If you enjoyed this post, I'd be very grateful if you'd help in spreading it, or sharing it on Twitter or Facebook. Thank you! Comment below your opinion.