Skin contains millions of pores, which may or may not be visible to the human eye and these pores are open so the skin can breathe.
Large or open pores especially on the nose or skin has now become a common problem for many people and open or large pores can increase skin irritation, blackheads and acne problems.
If you have oily skin this becomes worse as open pores affect your overall look and appearance. The only way to close open pores is that keep your skin moisturize, protected and clean.
The home remedies that I am going to share in this post, provides flexibility and a tightening effect that slowly helps to seal the big pores.
1. Sugar Scrub For Large Pores
Sugar scrub is a popular remedy to exfoliate skin and clear the pollutants from the face.
To begin with this method, use four spoons of powdered sugar and add a few drops of lemon and drops of water to it. Now wet your face and slowly rub this paste to your face and especially in the region of big pores.
After two minutes leave this sugar paste to dry and then clean it with cold water.
Using sugar scrub provides two benefits, first, it removes dirt and second it makes the skin pores tight which will make them look small.
2. Apple Cider Vinegar
Apple cider vinegar is one of the most celebrated home remedies to make pores smaller. It works as a natural skin toner.
It has antimicrobial and anti-inflammatory properties that help shrink the open sores. Mix equally water and apple cider vinegar. And apply this mixture on your face with the cotton ball.
Then rinse it off after a few minutes. Follow it with a moisturizer. Do it before going to bed.
3. Fuller's Earth
Clay masks can be used for absorbing excess oils and are great options for treating large pores, as long as they do not contain other ingredients that irritate the skin.
Fuller's earth is an effective home remedy for open pores as it naturally absorbs extra oils and exfoliates the skin as well.
The bonus point is, it reduces scars and blemishes and treat sun-damaged skin as well. Mix enough rose water with fuller's earth, blend this mixture well to make a smooth paste.
Apply this mixture on the face then rinse it off after 25 minutes when it dries. Scrub the mask off then gently rinse your face. Apply a gentle moisturizer.
4. Papaya For Large Pores
Papaya is a rich source of antioxidant nutrients and has Vitamin C and Vitamin A that helps in improving your skin texture and appearance.
It promotes the elasticity and firmness of your face. Take a fresh papaya and mash it up to make a paste.
Simply apply this papaya paste to your face and leave it for about 15 to 20 minutes. Then use some warm water to wash your face and pat dry your face.
5. Aloe Vera Gel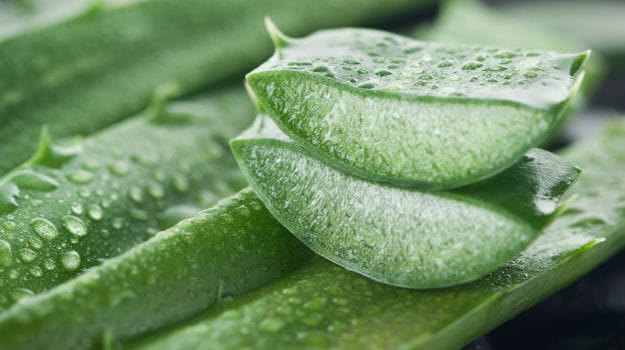 Alovera is a natural moisturizer which will keep your skin hydrated and will close the open pores naturally.
Apply fresh aloe vera gel on your face before going to bed then rinse your face in the morning with lukewarm water.
It will remove all the excess dirt and oil from your skin and makes it healthy.
(Read:- https://glowydowy.com/7-aloe-vera-face-mask-for-bright-and-beautiful-skin/ )

6. Banana Peel
Banana peel is crammed with lutein, an antioxidant, that helps in nourishing the skin.
Potassium that presents in banana can make your skin smooth and flawless. Rub the banana peel on your skin in a circulation motion.
Let your skin absorb the beneficial nutrients for 15 minutes. Then rinse your skin and let it dry. Use this remedy every alternate day for faster result.
7. Lemon And Honey For Large Pores
Lemon is a fruit and fruit acids are good for the skin. It contains Vitamin C and Vitamin B. Honey is antibacterial and full of antioxidants that help soothe your skin.
Mix one teaspoon of organic honey with the juice squeezed from a lemon. Apply it to your skin and leave it for 10 – 15 minutes and rinse it off. Do this daily for at least a month to get permanently rid of large pores.
If you enjoyed this post, I'd be very grateful if you'd help in spreading it or sharing it on Twitter or Facebook. Thank you! Comment below your opinion.